Pro Plan® Dry Dog Food
PRO PLAN® Sensitive Digestion All Size Puppy Lamb & Rice - Dry Dog Food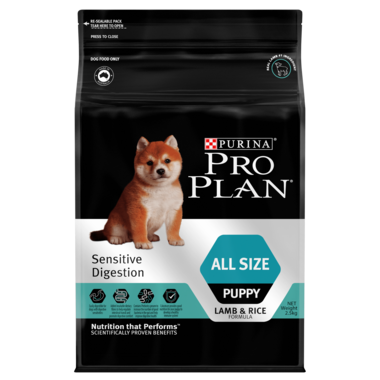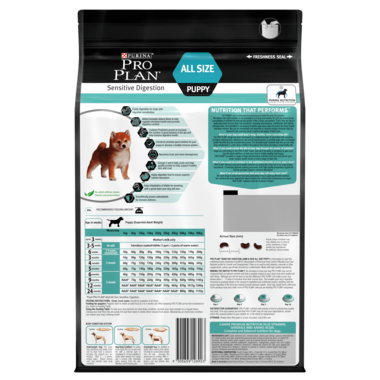 Easily digestible
Prebiotic proven to improve microflora balance
Efficient immune system
No added colours, flavours or preservatives
Features
Easily digestible
Prebiotic proven to improve microflora balance
Efficient immune system
No added colours, flavours or preservatives
WHAT IF you could give your puppy the nutritional building blocks for healthy development? PRO PLAN All Size Puppy Sensitive Digestion is a complete and balanced dog food for puppies with sensitive digestion. It is also suitable for gestating or lactating bitches. It contains colostrum proven to help strengthen a puppy's natural defences to combat daily challenges.
Our sensitive puppy food is proven to improve the balance of microflora in your puppy's stomach through a prebiotic source, helping solve a common cause of sensitive digestion. It also promotes a healthier faecal consistency, helping keep your puppy on track to good health.
Ingredients
Lamb
Whole grain wheat
Animal fat preserved with mixed tocopherols (form of vitamin E)
Wheat protein
Dehydrated chicken (natural source of glucosamine)
Soybean protein
Dehydrated fish
Barley and oats
Minerals
Vitamins
Amino acids
Organic acids and natural flavours including
Calcium
Phosphorous
Sodium
Chloride
Potassium
Magnesium
Manganese
Copper
Zinc
Iron
Iodine
Selenium
Vitamin A
Vitamin B1
Vitamin B2
Vitamin B3
Folic acid
Vitamin B5
Vitamin B6
Vitamin B12
Vitamin C
Vitamin D
Vitamin E
Choline
Bran
Brewers rice
Beet pulp
Chicory
Fish and/or vegetable oils
Colostrum
Natural antioxidants
Guaranteed Analysis
Crude Protein 30%
Crude Fat 18%
Crude Fibre 4% (Max)
Salt 1.8% (Max)
DHA 0.1% (Min)
Omega 3 Fatty Acids 0.2% (Min)
Omega 6 Fatty Acids 1.5% (Min)
Metabolizable Energy (ME) 3.77kcal/g
RECOMMENDED DAILY INTAKE:
Puppies start to nibble at solid food at 3 to 4 weeks old. After weaning, PRO PLAN can be fed moistened or dry.
At 1.5-3 months old, 60-90g for puppies of 5kg; 80-115g for puppies of 10kg; 100-195g for puppies of 25kg; 105-215g for puppies of 35kg, 120-245g for puppies of 45kg
At 4-5 months old, 75-850g for puppies of 5kg; 120-140g for puppies of 10kg; 225-245g for puppies of 25kg; 260-310g for puppies of 35kg, 280-350g for puppies of 45kg
At 6-8 months old, 75g for puppies of 5kg; 145g for puppies of 10kg; 300-350g for puppies of 25kg; 360-480g for puppies of 35kg, 405-575g for puppies of 45kg
By choosing to feed your dog PRO PLAN you can be reassured that our tailored nutrition will have a positive impact on your dog's long-term health and well-being. Although you will be keen to see the difference PRO PLAN can make in your dog, please allow 7 – 10 days to transition from their current food. This enables your dog's digestive enzymes to gradually adapt to the change in ingredient and nutritional content, assisting with the proper digestion of the food and helping prevent stomach upsets. Each day, simply feed a little less of the previous food and a little more of PRO PLAN until you are feeding PRO PLAN exclusively. Clean, fresh water should be available at all times.
Dry Food
You may also like...