PRO PLAN® Dry Dog Food
PRO PLAN® Bright Mind Small & Mini Adult 7+ Chicken - Dry Dog Food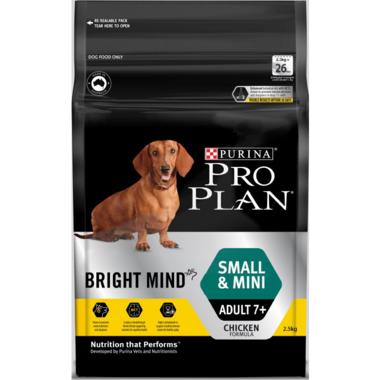 Dry food for Small & Mini Breed Adult Dogs 7+
Contains enhanced botanical oils with MCTs, shown to promote mental alertness and sharpness in dogs 7+ with visible results within 30 days
Contains brain supporting nutrients for cognitive health: breakthrough blend that promotes memory, attention and trainability
Specially developed by vets and nutritionists to meet the unique nutritional needs of aging dogs and support healthy aging
Features
Dry food for Small & Mini Breed Adult Dogs 7+ 
Contains enhanced botanical oils with MCTs, shown to promote mental alertness and sharpness in dogs 7+ with visible results within 30 days 
Contains brain supporting nutrients for cognitive health: breakthrough blend that promotes memory, attention and trainability 
Specially developed by vets and nutritionists to meet the unique nutritional needs of aging dogs and support healthy aging
Supports a strong immune system: high in antioxidants including Vitamins C & E
Supports joint health and mobility: EPA and DHA from fish to keep them active as they age
Dental health: kibble designed for medium & large dogs for a natural brushing effect
Natural ingredients: including Chicken as the first ingredient, and no added artificial colours, flavours or preservatives
What if you could enrich the life of your dog through the power of nutrition?
New PRO PLAN® BRIGHT MIND™ Small & Mini Adult 7+ is a breakthrough innovation in canine nutrition specifically designed to nourish your senior dog's mind.  
When your dog reaches maturity, their body begins to undergo age-related changes.  From less interaction with you, to lower engagement in daily activities, there are many signs your dog may be aging.  PRO PLAN® BRIGHT MIND™ was created out of proprietary research that shows enhanced botanical oils provide an efficient fuel source for the brain in dogs aged 7+ – helping naturally nourish their minds to help keep them active and alert for longer. 
PRO PLAN® BRIGHT MIND™ contains an exclusive blend of nutrients, shown to promote memory, attention and trainability in dogs 7+.  
As well as nourishing their brain, PRO PLAN® BRIGHT MIND™ Adult 7+ supports healthy aging with key nutrients to promote a healthy immune system, teeth and joints.  It is made with real chicken to ensure your senior dog loves and looks forward to each mealtime.
PRO PLAN® BRIGHT MIND™, is an innovative dog food at the cutting edge of nutritional science, specially formulated for dogs 7+.
Ingredients
Chicken
Dehydrated chicken
Rice
Oats
Wheat
Maize protein meal
Medium-chain triglyceride botanical oil (MCT oil)
Dehydrated fish
Animal digest
Pea protein
Vitamin
Mineral
Amino acids and natural flavours including
Calcium
Phosphorous
Sodium
Chloride
Potassium
Magnesium
Manganese
Copper
Zinc
Iron
Iodine
Selenium
Vitamin A
Vitamin B1
Vitamin B2
Vitamin B3
Folic acid
Vitamin B5
Vitamin B6
Vitamin B12
Vitamin C
Vitamin D
Vitamin E
Choline Beet pulp
Barley
Animal fat preserved with mixed-tocopherols (form of vitamin E)
Fish oil and antioxidants
Guaranteed Analysis
Crude Protein    30%
Crude Fat    15%
Crude Fibre    5.5% (Max)
Salt    1.8% (Max)
Glucosamine    400 mg/kg (Min)
Omega 3 Fatty Acids    0.2% (Min)
Omega 6 Fatty Acids    1.5% (Min)
Metabolizable Energy (ME)    3.70 kcal/g
Feeding Guide
RECOMMENDED DAILY INTAKE:
•    35-95g for dogs of 1-5kg
•    95-155g for dogs of 5-10kg
By choosing to feed your dog PRO PLAN you can be reassured that our tailored nutrition will have a positive impact on your dog's long-term health and well-being.  Although you will be keen to see the difference PRO PLAN can make in your dog, please allow 7 – 10 days to transition from their current food.  This enables your dog's digestive enzymes to gradually adapt to the change in ingredient and nutritional content, assisting with the proper digestion of the food and helping prevent stomach upsets. Each day, simply feed a little less of the previous food and a little more of PRO PLAN until you are feeding PRO PLAN exclusively. Clean, fresh water should be available at all times.
Dry Food
You may also like...