PRO PLAN® Dry Dog Food
PRO PLAN® Puppy All Size Sensitive Skin & Coat Salmon - Dry Dog Food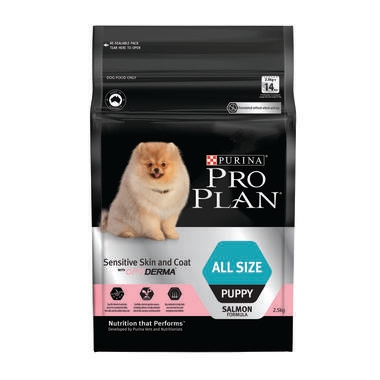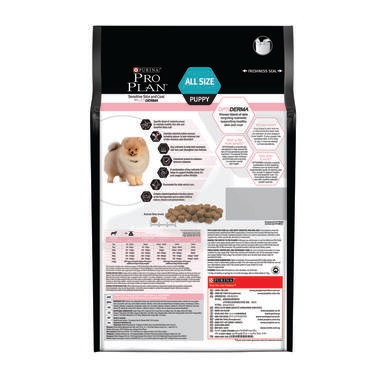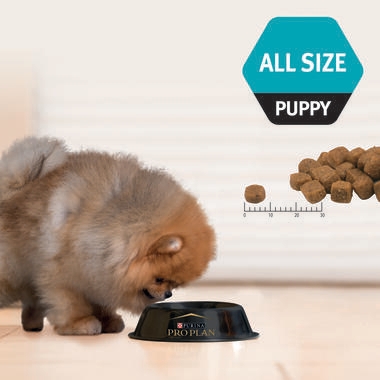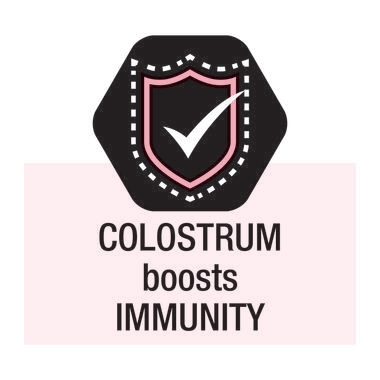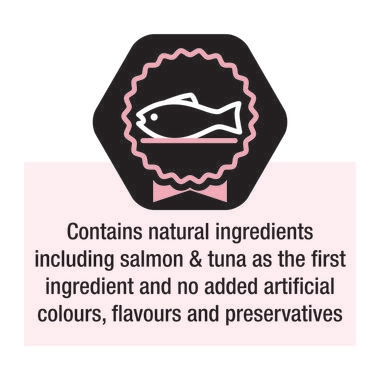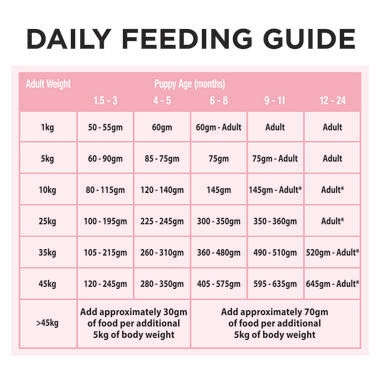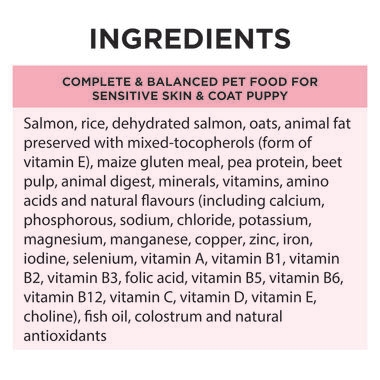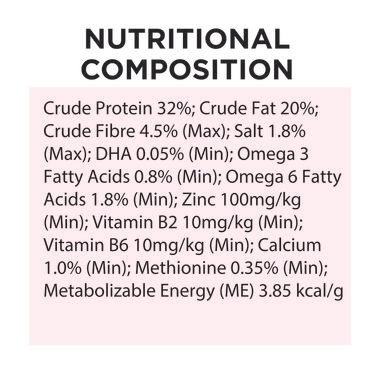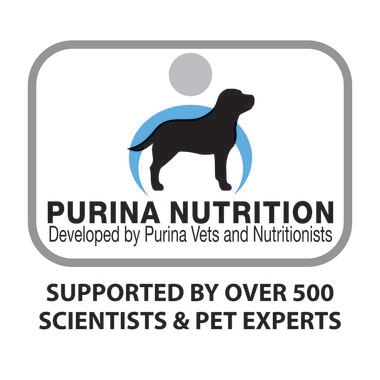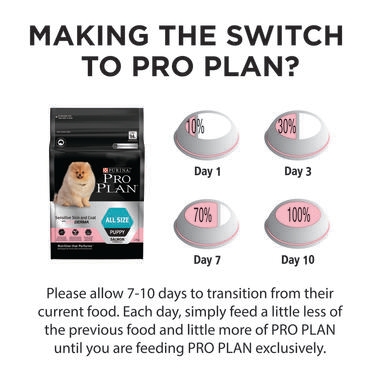 Made with natural ingredient - Salmon
Specific blend of nutrients proven to maintain healthy, firm skin and beautiful shiny coat
Carefully selected protein sources, including salmon, to help minimise risk of skin reactions and discomfort
Key nutrients to help limit excessive hair loss and strengthen hair follicles
Features
Made with natural ingredient - Salmon 
Specific blend of nutrients proven to maintain healthy, firm skin and beautiful shiny coat
Carefully selected protein sources, including salmon, to help minimise risk of skin reactions and discomfort
Key nutrients to help limit excessive hair loss and strengthen hair follicles
Colostrum proven to enhance immune response
A combination of key nutrients that helps to support healthy joints and mobility for your mature dog's active lifestyle
Formulated for daily dental care
Contains natural ingredients including salmon as the first ingredient and no added artificial colours flavours and preservatives
100% complete and balanced nutrition
PRO PLAN® DOG FOOD ALL SIZE PUPPY SENSITIVE SKIN & COAT contains a specific blend of nutrients proven to maintain healthy firm skin and beautiful shiny coat. Carefully selected proteins help to minimise risk of skin reactions and key nutrients limits excessive hair loss and strengthen hair follicles.
Ingredients
Salmon
Rice
Dehydrated salmon
Oats
Animal fat preserved with mixed-tocopherols (form of vitamin E)
Maize gluten meal
Pea protein
Beet pulp
Animal digest
Minerals
Vitamins
Amino acids
Organic acids and natural flavours (including calcium, phosphorous, sodium, chloride, potassium, magnesium, manganese, copper, zinc, iron, iodine, selenium, vitamin A, vitamin B1, vitamin B2, vitamin B3, folic acid, vitamin B5, vitamin B6, vitamin B12, vitamin C, vitamin D, vitamin E, choline)
Fish oil
Colostrum and natural antioxidants
Nutritional Composition
Crude Protein 32%
Crude Fat 20%
Crude Fibre 4.5% (Max)
Salt 1.8% (Max)
DHA 0.05% (Min)
Omega 3 Fatty Acids 0.8% (Min)
Omega 6 Fatty Acids 1.8% (Min)
Zinc 100mg/kg (Min)
Vitamin B2 10mg/kg (Min)
Vitamin B6 10mg/kg (Min)
Calcium 1.0% (Min)
Methionine 0.35% (Min)
Metabolizable Energy (ME): 3.85 kcal/g
Feeding Guide
Feeding for puppies: Puppies start to nibble at solid food at 3 to 4 weeks old. Keep moistened PRO PLAN Puppy available at all times and allow your puppy to eat at will until fully weaned at 6 to 8 weeks. After weaning, PRO PLAN can be fed moistened or dry. Use the age of the puppy to determine the number of feeds per day. For puppies under 3 months: 3-4 meals (moistened), 3-6 months: 3 meals, > 6 months: 2 meals. Use the feeding table to select the daily amount to feed, and if your puppy is losing weight or overweight when fed these amounts, adjust accordingly.
Using the Feeding Table: To help your puppy maintain an ideal body condition, monitor your puppy's weight on a regular basis, making sure that their ribs are easily felt and their waist is visible when viewed from above. Maintaining an ideal body condition can impact your puppy's lifelong health.
Feeding for Reproduction: PRO PLAN provides the extra nutrition needed by reproducing females during gestation and lactation, food consumption may vary during gestation, so feed the amount needed to maintain the pregnant female's ideal body condition. Food intake may double or even quadruple during lactation.
MAKING THE SWITCH TO PRO PLAN®: By choosing to feed your dog PRO PLAN you can be reassured that our tailored nutrition will have a positive impact on your dog's long-term health and well-being. Although you will be keen to see the difference PRO PLAN can make in your dog, please allow 7 – 10 days to transition from their current food. This enables your dog's digestive enzymes to gradually adapt to the change in ingredient and nutritional content, assisting with the proper digestion of the food and helping prevent stomach upsets. Each day, simply feed a little less of the previous food and a little more of PRO PLAN until you are feeding PRO PLAN exclusively
Daily Recommended Feeding Amount
 

DAILY RECOMMENDED FEEDING AMOUNT (GRAMS PER DAY)

Puppy Age (months)
1kg
5kg
10kg
25kg
35kg
45kg
>45kg
1.5-3

50-55

60-90

80-115

100-195

105-215

120-245

Add approximately 30g of food per additional 5kg of body weight

4-5

60

75-85

120-140

225-245

260-310

280-350

6-8

60 - Adult

75

145

300-350

360-480

405-575

Add approximately 70g of food per additional 5kg of body weight

9-11

Adult

75 - Adult

145-Adult+

350-360

490-510

595-635

12-24

Adult

Adult

Adult+
Adult+
520- Adult+
645- Adult+
+At 8 month, transition your small breed puppy to PRO PLAN Small & Mini Adult Sensitive Skin and Coat with OPTIDERMA
+At 12 month, transition your medium breed puppy to PRO PLAN Medium & Large Adult Sensitive Skin and Coat with OPTIDERMA
+At 24 month, transition your large/giant breed puppy to PRO PLAN Medium & Large Adult Sensitive Skin and Coat with OPTIDERMA
Clean, fresh water should be available at all times.
Dry Food
You may also like...

PRO PLAN® Puppy All Size Sensitive Skin & Coat Salmon - Dry Dog Food