The need-to-know
Highly active and inquisitive cat
Friendly but independent cat
Quiet cat
Average build cat breed
Requires grooming once a week
Non hypoallergenic breed
Outdoor cat
May require familiarisation before living with children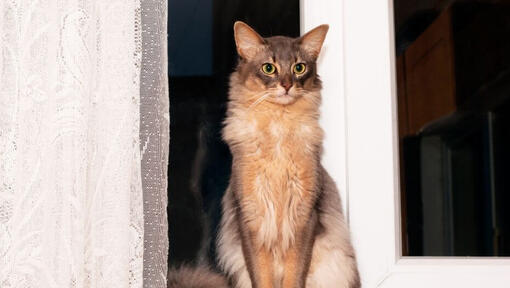 Personality
Somali cats are highly intelligent. The Somali breed is good natured and playful and enjoy games and toys. Somali cats may be shyer and more independent than their Abyssinian cousins but enjoy human company. They are active and enjoy access to outdoor exercise.
History and Origins
Country of Origin: USA
The Somali cat is the long haired version of the Abyssinian. The longhair gene was introduced into the Abyssinian breed in the early 1900s but the longhaired variety was not bred specifically until the 1960s. The original introduction of the longhaired gene took place in Britain and Abyssinians carrying the recessive gene were exported to Europe and America. Systematic breeding of the Somali cat began in America. Somalis soon became popular in other parts, particularly Australia where they are bred almost to the exclusion of the Abyssinian.