Dogs of all shapes, sizes and colors come to New York City for three days in February to compete at the Westminster Kennel Club Dog Show, presented by PRO PLAN®.

Only one dog can be Best In Show, but first dogs must win their Group competitions. The small-statured dogs of the Toy Group are the second to take the ring on night one of the competition.
Characteristics of the Toy Group
Dogs in the Toy Group serve a different purpose than those of the Herding or Hound Groups, for example. Rather than herding cattle or tracking game, Toy Group dogs provide their owners love and companionship.
Their small size makes them popular with those living in cities and small apartments. Toy breeds are the perfect lap dog, and they love attention. These small dogs also excel at learning new tricks and participating in obedience.
Toy Group Dog Breeds
Although dogs in the AKC Toy Group often resemble larger breeds, they aren't the only group with small dogs. Smaller breeds exist in every Group. The Toy Group includes all the following breeds and more.
Chihuahua: Named for the Mexican State of Chihuahua, this breed is more than 1,000 years old. They come in two varieties: long and smooth coat.
Havanese The Havanese is the national dog of Cuba and their only native dog breed. Its ancestors include the Bichon Frise and Maltese.
Maltese: The Maltese's history dates back thousands of years to the Mediterranean. They were a status symbol and fashion statement for Roman Empire-era aristocrats. They're known for their floor-length coats.
Papillon: The "Pap's" ancestors date back to the Renaissance. Artists like Rembrandt included them in their portraits and paintings. The breed was popular among the French, including Luis XIV and Marie Antoinette.
Pekingese: Like the Pug and Shih Tzu, the Pekingese was developed by Chinese emperors for themselves. To this day, the breed is a popular and loyal lapdog.
Pomeranian: Poms were first developed in northeastern Europe hundreds of years ago. Queen Victoria began breeding the dogs. Marie Antoinette and Wolfgang Amadeus Mozart also owned Pomeranians.
Toy Group Fun Facts
The Pekingese is the winningest breed in the Toy Group with 26 Group wins.*
The 2019 Group winner, the Havanese, fueled his victory with PRO PLAN®.**
In 2013, Banana Joe, an Affenpinscher, became the 7th Best In Show champion in a row fueled by Purina PRO PLAN.**
Eleven Best In Show winners have come from the Toy Group.
Tied for most consecutive Group wins are the Pomeranian and Pekingese with three each.
The Maltese has won the Toy Group 5 times.
There are two varieties of Chihuahuas: long coat and smooth coat. Neither variety has ever won Best In Show.
*Since the Group Competition started in 1924.
**The handler or owner of these champions may have received Purina PRO PLAN dog food as Purina ambassadors.
Featured Products
PRO PLAN Puppies & Mothers Performance Starter Chicken Formula with Colostrum - Dry Dog Food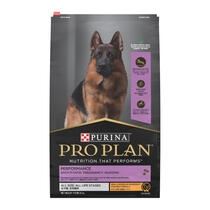 PRO PLAN Performance All Size All Life Stages Chicken Formula with Colostrum - Dry Dog Food
Related articles