PRO PLAN® Dry Cat Food
PRO PLAN® Kitten Chicken - Dry Cat Food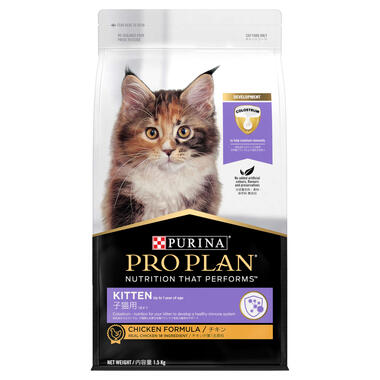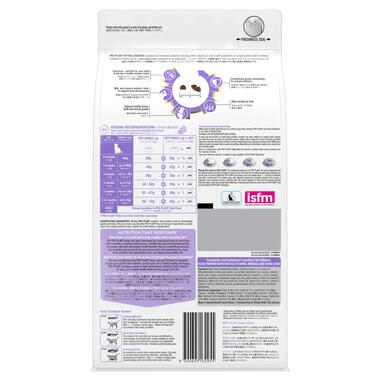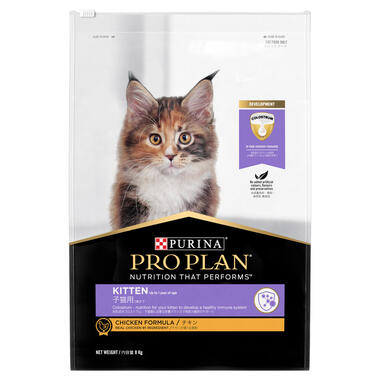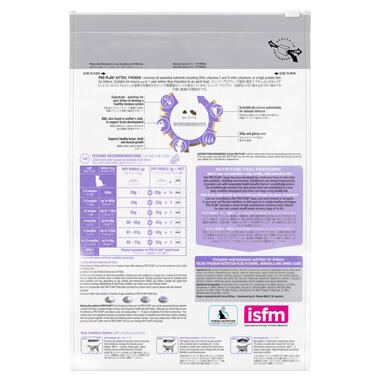 Supports healthy bones, teeth and muscle growth
Scientifically proven antioxidants for immune defence
DHA, also found in mother's milk, to support brain development
Colostrum – nutrition for your kitten to develop a healthy immune system
Silky and glossy coat
Features
Supports healthy bones, teeth and muscle growth
Scientifically proven antioxidants for immune defence
DHA, also found in mother's milk, to support brain development
Colostrum – nutrition for your kitten to develop a healthy immune system
Silky and glossy coat
PRO PLAN Kitten contains high levels of protein and fat to fuel a kittens rapid growth. Balanced levels of calcium and phosphorus ensures healthy development of bones. A blend of all essential nutrients including DHA and EPA ensure healthy brain and vision development.
Ingredients
Chicken (dehydrated Chicken, Chicken)
Brewers rice
Poultry oil
Dehydrated salmon
Whole grain wheat
Corn protein
Dehydrated tuna
Minerals, vitamins, amino acids, organic acids and flavours (including calcium, phosphorus, sodium, chloride, potassium, magnesium, manganese, copper, zinc, iron, iodine, selenium, vitamin A, vitamin B1, vitamin B2, vitamin B3, folic acid, vitamin B5, vitamin B6, vitamin B12, vitamin C, vitamin D, vitamin E, choline, methionine, taurine, pyrophosphates)
Fish oil
Colostrum and natural antioxidants.
Nutritional Information
Crude Protein (Min) 41%%
Crude Fat (Min) 21%
Crude Fibre (Max) 2.5%
Calcium (Min) 1.2%
Phosphorus (Min) 1%
Vitamin (Min) 70mg/kg
Vitamin D (Min) 1,000 IU/kg
Vitamin E 540 IU/kg (Min)
Taurine (Min) 0.1%
DHA (Min)
0.1%
Omega 3 Fatty Acids (Min) 0.5%
Omega 6 Fatty Acids (Min) 3% 
Kittens start to nibble solid food at 3 to 4 weeks of age. After weaning, PRO PLAN can be fed moistened or dry. Watch your kitten's weight and adjust food amounts accordingly. Maintaining an ideal body condition can impact your pet's lifelong health. Mix in or complement with PRO PLAN Kitten Wet Food for a texture that's sure to please even the fussiest of eaters. Once your kitten has reached 12 months of age, transition to PRO PLAN Adult food. Refer to Feeding Table
SUITABLE FOR NEUTERED/STERILISED KITTENS.
Always have fresh, clean water available. Storage Instructions: Please store this pack in a cool, dry place, out of the sun.
Dry Food
You may also like...