DENTALIFE® Dog Dental Treats
DENTALIFE® Large Dog Dental Treats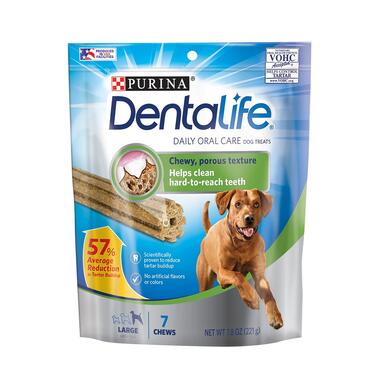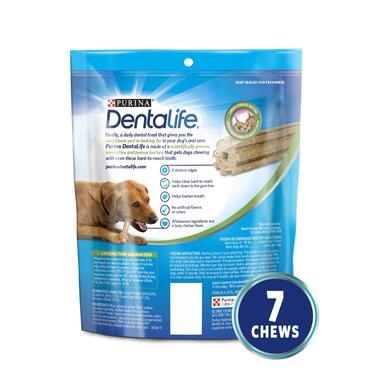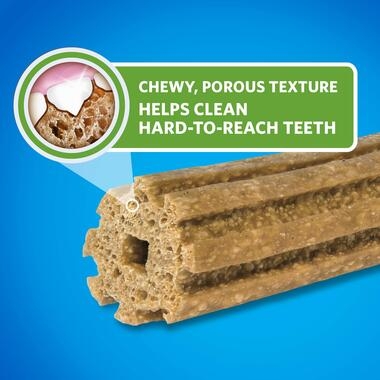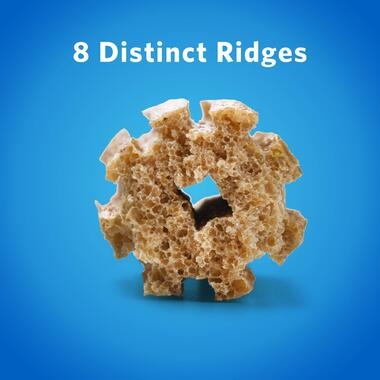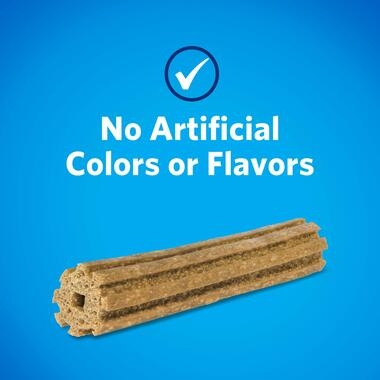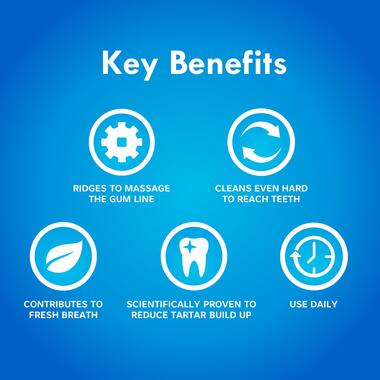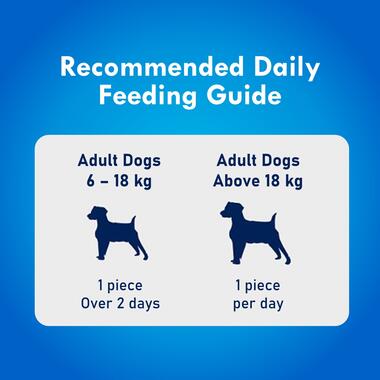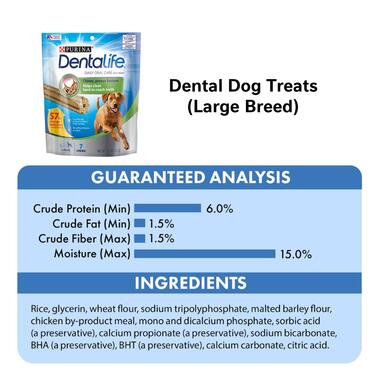 DENTALIFE® Dog Dental Treats
57% Average Reduction in Tartar Buildup
Chewy, Porous Texture Helps Freshen Breath
Helps Clean Hard-to-reach teeth
VOHC Accepted
Features
57% Average Reduction in Tartar Buildup
Chewy, Porous Texture Helps Freshen Breath
Helps Clean Hard-to-reach teeth
VOHC Accepted
No Artificial Colors or Flavours
8 Distinct Ridges
Wholesome Ingredients and a Tasty Chicken Flavour
DentaLife Daily Oral Care dog dental chew treats are designed with an innovative porous, yet chewy, texture that contains thousands of air pockets. The unique shape features 8 distinct ridges that clean your dog's teeth down to the gum line. DentaLife gets dogs chewing to clean even the hard-to-reach teeth in the back of the mouth. It's how DentaLife is able to deliver a breakthrough clean that's scientifically proven to reduce tartar build-up. Throw in wholesome ingredients and a tasty chicken flavor for your furry friend and it's no wonder each pack of DentaLife also comes with a satisfaction guarantee. For clean teeth throughout a long, healthy life together, choose DentaLife. For Life.
Ingredients
Rice
Glycerin
Wheat flour
Sodium tripolyphosphate
Malted Barley Flour
Chicken-by-product meal
Mono and dicalcium propionate (a preservative)
Sodium bicarbonate
BHA (a preservative)
BHT (a preservative)
Calcium carbonate
Citric acid
Nutritional Information
Crude Protein 6% (Min) 
Crude Fat 1.5% (Min)
Crude Fibre 1.5 (Max)
Moisture 15% (Max)
Feeding guide
Adult dogs 6.8 to 18kg -- 1 piece over 2 days
Adult dogs above 18kg -- 1 piece per day
Feed as a treat to your adult dog. This product is a treat and is not intended to be fed as a meal. The caloric intake from treats should not exceed 10% of a dog's total daily caloric requirement. If treats are given, the amount of food should be reduced accordingly. Monitor your dog to ensure treat is adequately chewed prior to swallowing. This chew snack is not suitable for puppies under one year of age or adult dogs under 6.8kg.
Feed on an easy to clean surface. Provide adequate fresh water in a clean container daily. For your pet's health, see your veterinarian regularly.
Treats
You may also like...
DENTALIFE® Mini Dog Dental Treats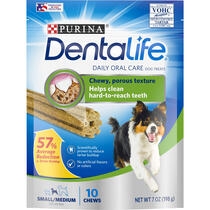 DENTALIFE® Small / Medium Dog Dental Treats