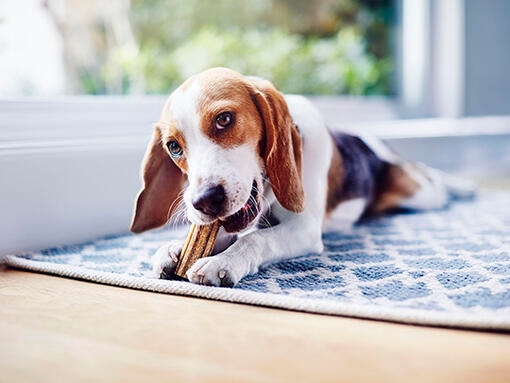 Dentalife dog food brand
Care for your dog's teeth daily with Dentalife's natural cleaning action.
Dentalife works thanks to a mechanical action, which promotes chewing and physical "brushing" on the surface of a dog's teeth.
The combination of product texture, shape and dimension of the chew allows it to clean even the hard to reach teeth at the back of your dog's mouth. This is where teeth are naturally more vulnerable to plaque and tartar build-up.
Browse our daily range: 
With a unique, chewy, porous texture and distinct ridges that massage the gum, Dentalife Dog treats are designed for daily usage, and are scientifically proven to reduce tartar build-up through a natural cleaning action.
Benefits of Dentalife
Dental efficacy
Scientifically proven to reduce tartar build-up
Innovative, chewy, porous texture that helps clean hard-to-reach teeth
Natural cleaning action
Helps freshen breath
Healthy composition
No artificial flavours or colours
Made with wholesome ingredients