PURINA ONE® Dry Cat Food
PURINA ONE® Healthy Kitten With Chicken - Dry Cat Food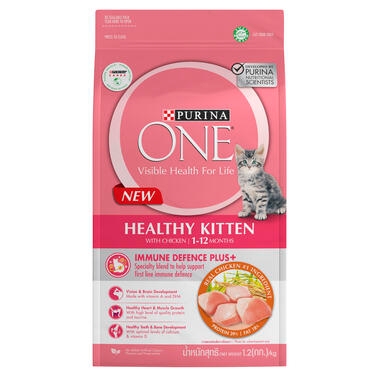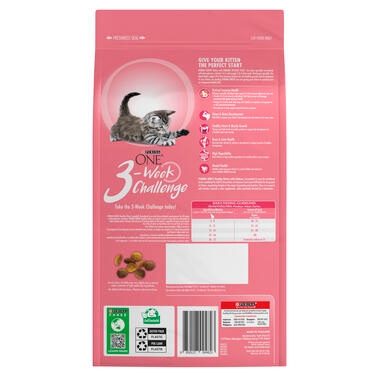 Real chicken is the #1 ingredient to ensure high digestibility
Immune Defence Plus+, a specialty blend to help support first line immune defence
Vitamin A & DHA to help support their vision and brain development​
High levels of quality protein and taurine to help support a healthy heart and muscle growth​
Features
Real chicken is the #1 ingredient to ensure high digestibility​
Immune Defence Plus+, a specialty blend to help support first line immune defence ​
Vitamin A & DHA to help support their vision and brain development​
High levels of quality protein and taurine to help support a healthy heart and muscle growth​
Calcium and Vitamin D to help support joint health and the development of healthy strong bones​
Crunchy Kibbles with the presence of Calcium maintains healthy teeth and gums
No added colours, flavours and preservatives ​
Kittens are in a phase of intense growth and development and have specific nutritional requirements. PURINA ONE® Healthy Kitten with Immune Defence Plus+ has been specially formulated to answer the nutritional needs of your kitten (from weaning to 12 months) and give them the optimal start for lifelong health. It also contains a specially formulated blend of Vitamins C & E, Omega 3 & 6 and beta glucans, to help support your kitten's natural defences from the inside out.​
Product features: ​
Real chicken is the #1 ingredient ​
Immune Defence Plus+ ​
Vitamin A & DHA to help support their vision and brain development ​
High levels of quality protein and taurine to help support a healthy heart and muscle growth ​
Calcium and Vitamin D to help support their healthy teeth and bone development ​ ​
Developed by PURINA Vets and Nutritionists, Purina ONE® Healthy Kitten with Immune. Defence Plus+ is made with 100% complete and balanced nutrition, and real chicken as the #1 ingredient, because delicious taste combined with superior nutrition is at the heart of your kitten's health and happiness. All our recipes are made with no added artificial colours, flavours and preservatives.
Feeding PURINA ONE® daily helps support your kitten's 6 visible signs of health; body condition, digestion, skin/coat/eyes, immune system, dental health, and bone & joint health. Join our 3 Week Challenge today to see visible differences in your kitten's health!​
Ingredients
Poultry meal​
Wheat gluten meal​
​Poultry oil​​
Rice​​
Corn​​
Fish meal​​
Chicken digest powder​​
Corn gluten meal​​
Soybean dried​​
Wheat​​
Vitamins: A, B1, B2, B3, B5, B6, B7, B9, B12, C, D3, E​​
Minerals: Calcium, Chlorine, Choline, Copper, Iodine, Iron, Manganese, Phosphorus, Potassium, Selenium, Sodium, Zinc) and Amino acids (Methionine and Taurine)​​
Caramel colour​​
Fish oil​​
Yeast (source of beta-glucans) ​
​
Nutritional Information:
Crude Protein 39% (Min)​
Crude Fat 18% (Min)​
Moisture 12% (Max)​
Crude Ash 8.5% (Max)​
Crude Fibre 3% (Max)
​Calcium 1% (Min)​
Phosphorus 0.9% (Min)​
Taurine 0.1% (Min)​
Vitamin A 9277 IU/kg (Min)​
Vitamin C 67 mg/kg (Min)
​Vitamin D 865 IU/kg (Min)​
Vitamin E 514 IU/kg (Min)​
DHA 0.01% (Min)​
Omega 3 Fatty Acids (EPA + DHA) 0.06% (Min)
​Omega 6 Fatty Acids (Linoleic acid + Arachidonic acid) 1.3% (Min)​
Metabolizable Energy (ME): 3.91kcal/g​
Please refer to product label for the latest information.​
Feeding guide
PURINA ONE® Healthy Kitten is specially formulated to provide the nutritional requirements for all stages of development. Introduce PURINA ONE® Healthy Kitten at around 4 weeks of age and mix with water to make eating easier. Increase the amount of food provided as the kitten's appetite increases and reduce the ratio of water as the kitten starts to eat food on its own.​
Age of Kitten: Feeding Amount​
4-8 weeks: 40-55g
​8-12 weeks: 55-65g​
12-24 weeks: 65-80g​
24-36 weeks: ~80g​
36-52 weeks: Gradually reduce to 75g​
One 250ml cup contains approximately 100g of product.​
For pregnant and nursing cats ensure unlimited access to food, as mother cats require 2 to 3 times the nutrients and food of other adult cats. ​
Please refer to product label for the latest information.​
Dry Food
You may also like...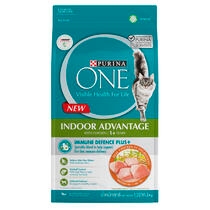 PURINA ONE® Indoor Advantage Chicken - Dry Cat Food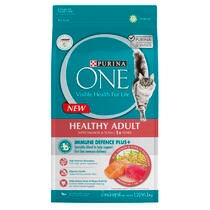 PURINA ONE® Healthy Adult Salmon and Tuna​ - Dry Cat Food

PURINA ONE® Healthy Kitten With Chicken - Dry Cat Food