PURINA ONE® Dry Cat Food
PURINA ONE® Indoor Advantage Chicken - Dry Cat Food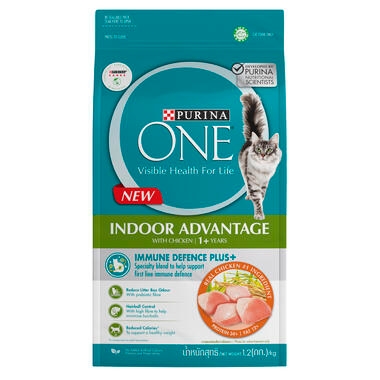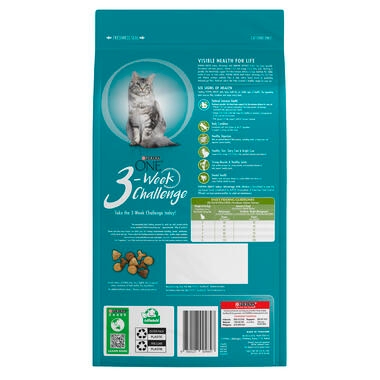 Real chicken is the #1 ingredient to support a strong and lean body ​
Immune Defence Plus+, a specialty blend to help support first line immune defence
Reduced Calories* to support a healthy weight​
Omega 3 & 6 fatty acids, essential vitamins and minerals promotes healthy skin, shiny coat and bright eyes
Features
Real chicken is the #1 ingredient to support a strong and lean body ​
Immune Defence Plus+, a specialty blend to help support first line immune defence ​
Reduced Calories* to support a healthy weight​
Omega 3 & 6 fatty acids, essential vitamins and minerals promotes healthy skin, shiny coat and bright eyes
High levels of quality protein and taurine to help support muscle growth​
Crunchy Kibbles with the presence of Calcium maintains healthy teeth and gums ​
With an optimal blend of fibre sources, including inulin, it keeps your cat's digestive system healthy​
Prebiotic fibre reduces litterbox odour​
High fibre helps to minise hairballs
No added artificial colours, flavours and preservatives
*in comparison to Healthy Adult formulation
PURINA ONE® Indoor Advantage with Immune Defence Plus+ has been specially formulated for cats who tend to spend more time indoors/inside. It also contains a specially formulated blend of Vitamins C & E, Omega 3 & 6 and beta glucans, to help support your cat's natural defences from the inside out. ​
Product features: ​
Real chicken is the #1 ingredient ​
Immune Defence Plus+ ​
Contains prebiotic fibre to help reduce your cat's litter box odour ​
Made with high fibre to help minimise your cat's hairballs ​
Contains reduced calories to help support your cat's healthy weight* ​
*in comparison to Healthy Adult formulation ​
Developed by PURINA Vets and Nutritionists, Purina ONE® Indoor Advantage with Immune Defence Plus+ is made with 100% complete and balanced nutrition and contains all the key nutrients your cat needs to help support their lifelong health. This recipe is made with real chicken as the #1 ingredient, because delicious taste combined with superior nutrition is at the heart of your cat's health and happiness.
All our recipes are made with no added artificial colours, flavours and preservatives.
​Feeding PURINA ONE® daily helps support your cat's 6 visible signs of health; body condition, digestion, skin/coat/eyes, immune system, dental health, and bone & joint health. Join our 3 Week Challenge today to see visible differences in your cat's health! ​
Ingredients
Poultry meal​
Corn​
Corn gluten meal​
Rice​
Wheat gluten meal​
Soybean dried​
Chicken digest powder​
Wheat​
Poultry oil​
Fish meal​
Natural plant fibre​
Vitamins (vitamin A, B1, B2, B3, B5, B6, B7, B9, B12, C, D3, E)​
Minerals (Calcium, Chlorine, Choline, Copper, Iodine, Iron, Manganese, Phosphorus, Potassium, Selenium, Sodium, Zinc) ​
Amino Acids (Methionine and Taurine)​
Inulin​
Caramel colour​
Yeast (Source of Beta-glucans)​
Nutritional Information:
Crude Protein 34% (Min)​​
Crude Fat 12% (Min)​​
Moisture 12% (Max)​​
Crude Ash 8.5% (Max)​​
Crude Fibre 7% (Max)​​
Calcium 0.6% (Min)​​
Phosphorus 0.5% (Min)​​
Vitamin C 60 mg/kg (Min)​​
Vitamin E 460 IU/kg (Min)​​
Taurine 0.1% (Min)​​
Omega 3 Fatty Acids (EPA + DHA) 0.01% (Min)​​
Omega 6 Fatty Acids (Linoleic acid + Arachidonic acid) 1.2% (Min)​​
Metabolizable Energy (ME): 3.54kcal/g​​
Pleae refer to product label for the latest information.​
Feeding guide
Weight of Cat // Feeding Amount for Maintenance // Feeding Amount for Sterilised, Weight Management ​ ​
2kg // 30g // 30g
​3kg // 45g // 40g ​
​4kg // 65g // 55g​
​5kg // 80g // 70g ​
​6kg // 95g // 85g ​
​Above 7kg // 110g // 100g
Recommended daily feeding amounts for adult cats with normal activity (using standard 250ml measuring cup – approximately 100g of product) ​ ​
Please note that many factors can affect your cat's energy requirements including, gender, sterilization, activity level, and age. Please adjust the feeding amount to maintain a lean, healthy body condition.​ ​
Please refer to product label for the latest information.​
Dry Food
You may also like...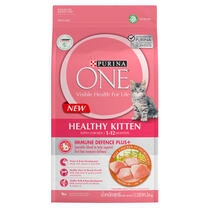 PURINA ONE® Healthy Kitten With Chicken - Dry Cat Food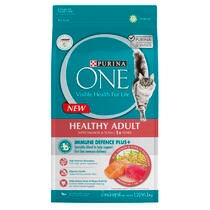 PURINA ONE® Healthy Adult Salmon and Tuna​ - Dry Cat Food

PURINA ONE® Indoor Advantage Chicken - Dry Cat Food